We are excited to announce the launch of our MAG Premier Equipment Access service to support the replacement of capital expenditure purchasing models (CAPEX) with multi-year subscription agreements managed as operating expenses (OPEX).
You have old equipment. You want new equipment. You don't have to purchase it.
You have broken equipment. You want working equipment. You don't have to buy it.
You want efficient processes, no downtime, unwavering support, and consistent, quality results.
That's right. It's official. You don't have to buy another piece of material testing equipment. Sign up for MAG Premier Equipment Access to get the analytical equipment you deserve without the headaches and escalating costs of ownership.
Our commitment to the industrial and scientific community has always been to help improve the quality, and consistency of material testing. It's hard to do that without the proper tools, training, support, and service.

MAG's Premier Equipment Access is part of our effort to offer options that make analytical equipment more affordable and accessible, while also being less costly to maintain and service.
Technicians, engineers, scientists get the equipment they deserve in an all-inclusive service without worrying about the budget.
This new program fills the gap between equipment needs and dwindling budgets.
Metal Analysis Group co-founder, Troy Robertson, says:
"We developed this program to support our community as they often suffer from the
Ever-increasing price of new equipment

High cost of repairing and maintaining old equipment

Constant battle of associated expenses like consumables, accessories, and training.
It's unfortunate to watch CAPEX budgets and high costs of ownership stand in the way of quality testing for our customers in the industrial and scientific community. We have decided to remove those obstacles with a truly affordable premier access service that provides the analytical equipment they want including all of the maintenance, support, and consumables required for their success."
All of that for a low quarterly or annual payment.
In other words, quality and reliable testing without the nickels, dimes, and $10,000 repair bills.


MAG Premier Equipment Access is designed to be all-inclusive and configured for each customer to meet their specific need while providing the equipment functionality they truly want.
(Automation anyone?)
MAG Premier Equipment Access includes:
Worry-Free Maintenance

No Cost Service & Repair
Instrument Certifications & Preventative Maintenance
Required Consumables & Accessories

All Inclusive, One Price, Guaranteed

The Analytical Equipment you WANT (Bells and Whistles Included)
Renewable Usage Service Contracts/Agreements
Operational Expense - 100% Tax Write-Off

Ongoing Protection Against

Obsolescence: Technology Refresh every 3, 4, or 5 Years!
Theft, Accidents, Drops, or Disaster: Maximum Equipment Insurance
The Skills Gap: Product, Theory, Application, and Technology Safety Training
Ongoing Premier Equipment Access is available for 3-5-year terms with choice of quarterly or annual payments. Premier Access is available for all LIBS, OES, and XRF testing equipment available through Metal Analysis Group.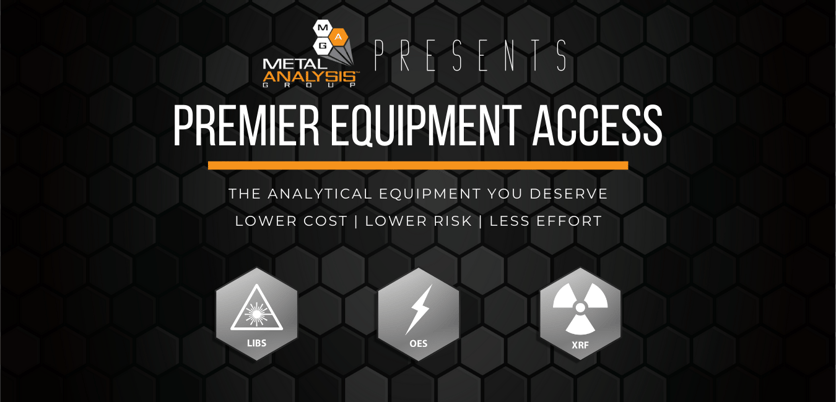 Don't Buy Equipment Tomorrow!